Common Questions
What do I do?
I help business owners who are too busy working in the business to be working on the business. I help them prepare their businesses for sale both now and/or in the future. I help them achieve a highly decentralized business so they no longer have to be the center of the business and have every decision flow through them. This equals freedom, fulfillment and financial abundance. We will work together with a focus on growing the business, so the owner is free to make the choice when and if they want to sell it. My clients build profitable, transferable businesses that are ready for all contingencies, attractive to buyers and very sellable.
How do I do it?
Using a proven process, the owner and I will evaluate where they are in detail and then begin improving every aspect of the business that a buyer would look at. After completing a simple Clarity Event, a small investment of time each month will create real and measurable results.
What is the cost?
After making a small investment in the Clarity Event, services begin at a base rate of $500 per month, which may vary depending on the size and complexity of your company. Surprised? Don't be. My process is designed, and priced, for Main Street business owners of all sizes. I am committed to providing high-quality affordable services to ensure that my clients receive the best possible value for their investment.
What should you do next?
I'm an easy guy to talk to, and that's what should happen next. You and I should have a simple conversation. We'll talk about your business, what you want to accomplish with it, the pain points you need to eliminate and I'll answer your questions about ways we can work together to create the results you want to see in your business. No obligation, no cost, no hard sell. Schedule a 20-minute conversation.
Want to wait and think about it longer?
Many owners who come to my company are stuck, burned out and unhappy with their business. They find themselves in the "Owners Trap." Why would you wait to start making the business better? Reaching out is not you saying, you want to sell your business now, it's you saying you want your business to work better, so you can be ready to sell either today or even never.
What kinds of problems do we solve for business owners?
Fixing broken Bonus Plans, Re-Engineering Pay philosophy, Retention and Reward plans for Key People, Long Term Incentive Programs, Phantom Stock Plans, 401-k Restoration Strategies
Exit Mapping, Owner Centricity Study, Family Ownership Transition Blueprint, De-Risking Study, Single Owner Buy-Sell Planning, Partner Buy-Sell Mitigation Opinion, Key Employee Cost Replacement, Stock Redemption Platforms, Contingency Emergency Roadmap, Personal and Business Asset Integration Study, Value Gap Analysis, EBITDA Multiplier Study, Isolated Value Builder Module Consultation
Certified Valuation planning for: Mergers and Acquisitions, Buy-Sell Value Corrections, Share Price Targeting, IRS Challenges, Minority Owner Discount Validation, Marital Dissolutions in Divorce, Partner Disputes, Bank Loans and SBA Audits, Fairness Opinion, Liability Claim Support, Capital Infusion, Gift and Estate Tax Planning, Annual ESOP calculations, Collateral Assessments, Sub-S Conversion Calculations
The Clarity Event
We use the Clarity Event to build an understanding of your business, its ebbs and flows, its "Valleys of Financial Death," and, more importantly, how you feel about what needs to be done, fixed, repaired, scaled up, or rebirthed.
When we begin our work together, we assume you will want to check us out and experience our product and our deliverables along with our results without making a huge, expensive long-term commitment like other business improvement consultants will expect from you. We are different. Our Clarity Event process is designed to be completed in just a few months as we diagnose and prepare a series of deliverables that analyze, measure, and ultimately recommend a path forward for you and your business. The action items on the Road Map we prepare can be a DIY exercise, or you can choose an advisor to take you through the recommendations. If you hire us, we will guide you through our actionable Value Building Platform.
Our Clarity Event is priced according to the amount of work needed. Our fees range from $0 to $2,500 monthly for the 3 to 4 months it takes to complete the exercises in the process. It all depends on you and what you want to accomplish. Some owners come to us to solve a single problem, while some want a full diagnostic. You, the owner, decide.
The Clarity Event Deliverables
Below is a list of Deliverables included in the Clarity Event with clickable resources and brief description of each to help you get started. We will work together to determine the scope of help you need and will provide a summary report we call the "Value Builder Blueprint of Action."

Seller Insights: The Top Six Reasons Why Most Deals Blow Up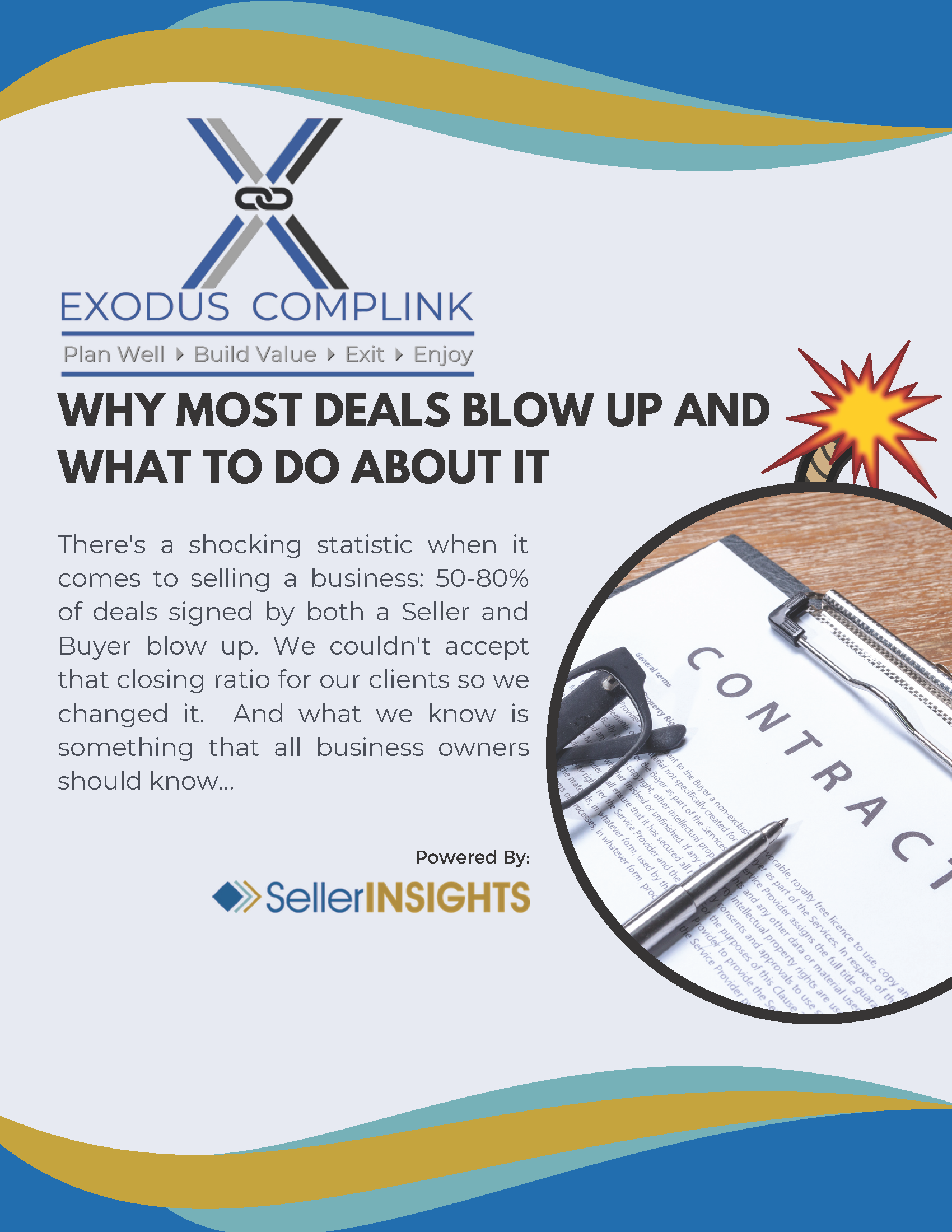 When Sellers have time to think through these six obstacles they are able to better process their emotions and leverage deal professionals to create strategies to get to the closing table. The top six include:
Hidden Costs
Uncovered Issues
Trust & Transparency
Financing Issues
Communication
Deal Fatigue
We want to ensure that you can proactively prepare to avoid the unnecessary issues that often arise during the process of selling a business. If you want to discover solutions to the six obstacles, please download our FREE eBook, "Why Most Deals Blow Up".